September 2018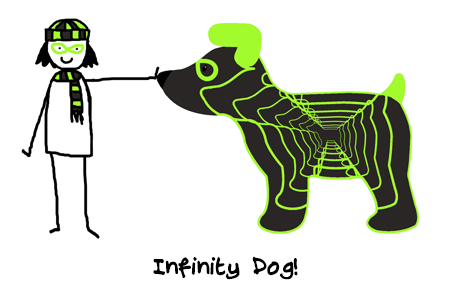 It's official, the Ashford Snow Dogs have been released into the wild. There are now 35 large painted dogs scattered around Ashford (Kent). My design is on show in the Chuch Graveyard, a location that will only get better as we near Halloween.
28/09/2018
The Drama and The Plan
First, The Drama. The snow dog sculpture I painted for the Ashford art trail got moved from it's original site (The Churchyard) to a new home just around the corner. I went to take some new pictures this morning and I still think he looks pretty good.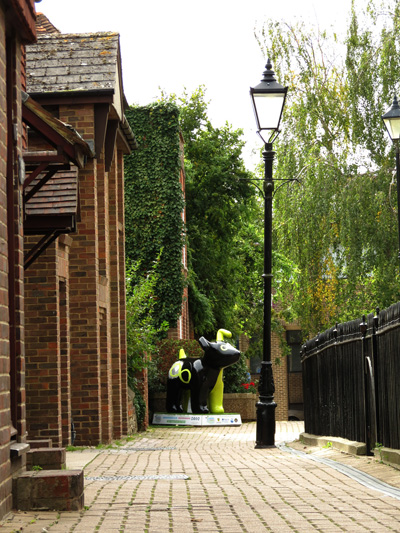 The Drama occurred because the local paper reported the move as being down to one (1) guy making a complaint [x], so now a lot of other people are complaining about the complaint, arguing that the dog should be put back because the trail is only short term and for a good cause.
I never thought that I would be a controversial modern artist, yet here we are.
OK, back to the handicrafts. I have a plan for knitting the multi-lobed leaves I've been putting off for literal years. Seriously. I've looked back in my emails because I remember someone asking me if I was going to do I maple leaf and I replied yes, it's on the list in 2015! It totally has been on my list too, ever since I started doing leaves, I just haven't had a simple plan on how to do it.
So, The Plan. I had to take these things into consideration.
Rib stitch leaves lay flat. If I'm going to knit something with a fancy edge I don't want it to curl up so I'll make it in rib.
I want the ribs to radiate from a central line so they look like veins.
I want to be able to plan out shapes on a grid.
I don't want to do too much prep work before I start knitting the whole leaf, so the more repeat sections there are the better.
Here's the maple leaf sketch. I've simplified the shape so that there are only three different sections. I'm going to plan out the pattern for each using my regular stocking stitch grid, but because I'm knitting in rib each cell will be a knit/purl set and each increase will be a make 2. To make the rib lines radiate from a central point I'm going to plan each section with the central line at the same angle.
And here we go...
That looks so much less impressive.
Fast forwarding and I've knitted a test of each of the three sections and made some tweaks to the pattern.
Now comes the bit where I combine them into the leaf pattern and I'm really proud of how I've worked this out. Rather than reverse a line in the pattern to get the flipped version of a section I'm going to work the next row which is already flipped.
So working around the leaf the first Complete Row after cast on will be outside section row 2, spacer section row 1, (lobe section row 2, lobe section row 1) x 3, spacer section row 2, outside section row 1.
I'm sure it makes sense I just need to keep good track of where I am on each reversal.
Off I go to give it a try.
16/09/2018
Not Knitting
Yesterday was the official launch of the Snow Dog trail. I'll have to update with my favorite dogs once I've seen them all, but for now here's my contribution.
© 2018 All desgins and images are copyright of ODDknit. If you enjoy the content of this website, please consider buying me a coffee at the link below.