The Designer
All ODDknits on this site were designed and made by Jessica Goddard.
About Jessica
Jessica is an artist who dabbles in a wide range of crafts. She is a fan of the solid line and most of her artwork uses cut-paper to produce bold designs with strong contours. She also enjoys taking the solid line and knitting with it.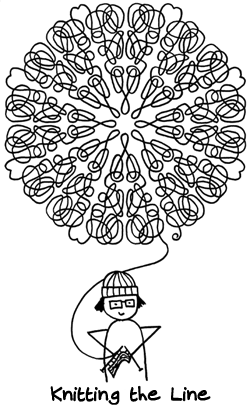 Jessica was born and raised on Romney Marsh. This small (and slightly peculiar) corner of South-East England is famed for its sheep and notorious for a history of wool smuggling. Knitting has always been one of Jessica's favourite hobbies. Her Granny taught her the basics when she was very small and she has been trying to learn the complicated bits ever since.
While Jessica was growing up her parents were working as art teachers and her big sister, Emily, was studying art. Coming from such an environment you might assume that Jessica was naturally very creative and began designing her own patterns early on.
She didn't.
Instead Jessica did her best to avoid art completely. She felt more drawn towards science and her knitting always followed the instructions.
Jessica went to study physics at Imperial. By now she was getting the hang of algebra and discovered that maths allowed her to work out adaptations to her knitting patterns. As she began to meet other knitters she got inspired by the possibilities of knitting and began inventing completely new patterns of her own.
Upon graduation Jessica decided that knitting was art and that she had quite liked it all along actually. She began to expand her experiments into other craft and art forms. Occasionally her whole family do a show together. Check out the Family Goddard website to browse everyone's artwork.
These days Jessica splits her time between her knitting, her love of all things sci-fi/fantasy, and her work as a spreadsheet gremlin for Utilitas Solutions. This Kent based company offers cost reduction services for businesses across the country. Look them up if you run a business and want to make some savings!
Despite carefully planning her patterns in advance Jessica is still constantly surprised by what actually emerges from her knitting needles.
© 2010-2016 All desgins and images are copyright of ODDknit.