Worm (F3)
The worm is made of wrapped i-cord body with a stocking stitch bump.
A printable version of this pattern is available.
You will need:
pink yarn scraps
2 x double ended knitting needles (3mm)
tapestry needle
scissors
Pattern:
Body
Cast on 3 sts and i-cord two rows (in regular i-cord the yarn goes across the back of the knitting).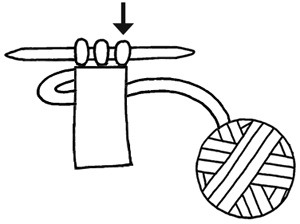 Wrap the yarn clockwise around the tube of knitting before i-cording each of the next fourteen rows.
I-cord five rows without wrapping.
Work the wrapped i-cord row seven times.
Cut yarn and thread through remaining sts.
Clitellum
Cast on 4 sts.
Stocking stitch (alternate purl and knit rows) for five rows, starting with a purl row.
Cast off 4 sts.
Making Up:
Wrap the knitted clitellum around the bare patch of i-cord so that the sides almost meet (it is a tight fit). Sew the sides together. Lose any remaining loose ends.
Variations:
If you follow the home page of this site you'll probably know I've been talking about worm dipping for at least 2 years. I've been trying to perfect a technique where I dunk the body of the worm in a dye that gives a subtle gradiant of colours, lightening towards the tips. The clitellum goes on afterwards for contrast.
Notes:
Needle/Yarn Size
As with most ODDknit patterns the yarn and needle sizes in the "you will need" section are just a guide. Feel free to improvise with whatever needles and yarn you have lying around - that's half the fun!
© 2014 All desgins and images are copyright of ODDknit.