Ghost (R3)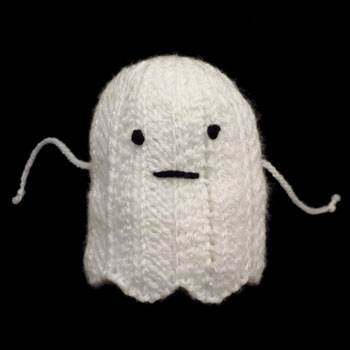 I could have made this a simpler pattern but I was absolutely determined to make the wibbles (technical term) along the bottom edge hold their shape even when the ghost was stuffed. Thanks to that the whole thing is knitted in a type of chevron stitch.
A printable version of this pattern is available.
You will need:
white double knit yarn
toy stuffing
4 x double ended knitting needles (3.25mm)
tapestry needle
scissors
Pattern:
Cast on 4 stitches in white and join into a round.
(A list of abbreviations is available.)
Round 1:

kfb x 4 (8)

Round 2 and all even rounds:

k –

Round 3:

kfb x 8 (16)

Round 5:

[kfb, k1] x 8 (24)

Round 7:

[kfb, k2] x 8 (32)

Round 9:

[kfb, k3] x 8 (40)

Round 11:

[kfb, k4] x 8 (48)

Round 13:

[kfb, k5] x 8 (56)

Round 15:

p –

Round 17:

[k1, inc, k2, k2tog, k2tog, inc] x 8 (56)
Repeat rounds 17 and 18 eleven more times each (twenty-four rounds in total).
Round 41:

[k3, k2tog, k2tog] x 8 (40)

Round 43:

k –
Change the start position of the round by slipping the first stitch p-wise and transferring it onto the last needle. The second stitch becomes the first stitch for all remaining rounds.
Round 45:

[k1, k2tog, k2tog] x 8 (24)

Round 47:

k –

Round 49:

[k2tog, k1] x 8 (16)

Round 41:

k2tog x 8
Stuff the shape through the small hole that remains. Thread yarn through stitches and pull tight to close.
Making Up:
Give the ghost arms by running a single length of white yarn completely through the body from side to side. Tie a knot either side of the body to keep the thread in place then cut the yarn so that an equal length of it hands on each side of the body. Tie a knot at the very end of each arm to keep it from fraying.
Embroider a simple face in black.
Lose any remaining loose ends yarn inside the shape.
Notes:
Needle/Yarn Size
As with most ODDknit patterns the yarn and needle sizes in the "you will need" section are just a guide. Feel free to improvise with whatever needles and yarn you have lying around - that's half the fun!
© 2013 All desgins and images are copyright of ODDknit.