Tall and Stripy Egg Cosy (R3)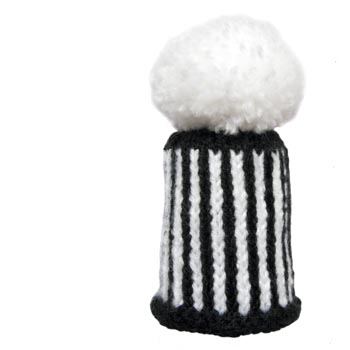 Why not indulge in an elegant egg cosy that is almost half pom pom. The striped fabric can become quite dense so try to keep your knitting nice and loose.
A printable version of this pattern is available.
You will need:
double knit yarn in black and white
4 x double ended knitting needles (3.25mm)
tapestry needle
scissors
card
Pattern:
Cast on 40 stitches in black, join into the round.
(A list of abbreviations is available.)
Round 1:

p –

Round 2:

in black [k1, sl] x 20

Round 3:

in white [sl1, k1] x 20
Repeat rounds 2 and 3 fifteen more times, making sure to change yarn colours at the end of every round.
Switch to black for the following.
Round 19 and following rounds:

k –

Round 20:

[k2tog, k3] x 8

Round 22:

[k2tog, k2] x 8

Round 24:

[k2tog, k1] x 8

Round 26:

[k2tog] x 8
Thread yarn through remaining sts and pull tight.
Making Up:
Make a white pom pom using a template with an outer circle radius of 2.5cm and an inner cirlce radius of 1cm
Attach the pom pom to the top of the egg cosy. Sew in any remaining loose ends.
© 2011 All desgins and images are copyright of ODDknit. If you enjoy the content of this website, please consider buying me a coffee at the link below.