Bind-Off Cast-On
The "Bind-Off Cast-On" is a method of casting-on that looks like the most common method of binding-off. It is useful if you want both ends of a knitted piece to look the same.
It is called the bind-off cast-on in the works of Montse Stanley. The method is also referred to as the "crochet cast on" because the method uses a crochet hook.
You will need:
yarn
single knitting needle
crochet hook
Technique
Tie a slip knot and place it on the crochet hook. Hold the crochet hook on top of and at right angles to the knitting needle.
Take the yarn behind the needle and wrap it down over the crochet hook.
Use the hook to pull the yarn through the slip knot. There is now one stitch on the needle and a new loop on the crochet hook.
The loop on the crochet hook is twisted. Remove the hook from the loop and insert it in the other direction.
Repeat the steps until there is one stitch fewer than the desired number on the needle. The final stitch is made by placing the loop from the crochet hook onto the needle.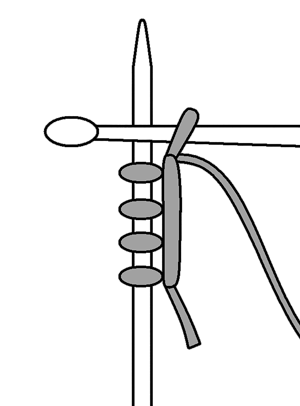 Links:
If you still don't have the hang of it here are some other websites that will take you through the technique.
For a step-by-step guide with photos try:
Craftside's Instructions.
For a video tutorial try:
Oftroy's crochet cast on lesson. It uses a slightly different method which you may prefer.
© 2011 All desgins and images are copyright of ODDknit.