Bag-Bag (F3)
Sometimes you just need a plastic bag, whether you're carrying something in the rain, shopping for mucky veg or walking the dog. The bag-bag is a pouch for compacting and holding plastic bags for times of need.
A printable version of this pattern is available.
You will need:
scraps of double knit yarn
3.25mm knitting needle
tapestry needle
scissors
Pattern:
(A list of abbreviations is available.)
Cast on 17 stitches.
Row 1:

k –

Row 2:

k –

Row 3:

k1, [sl1, k1] x 8

Row 4:

k1, [yfwd, sl1, ybck, k1] x 8
Repeat these rows 20 more times (84 rows total) and cast off.
Making Up:
With the right side up fold the ends of the knitting inwards as the diagram shows. Sew together the sides making sure to pierce all three layers of knitting. Don't worry about being neat because the next step is to turn the bag-bag right-side out.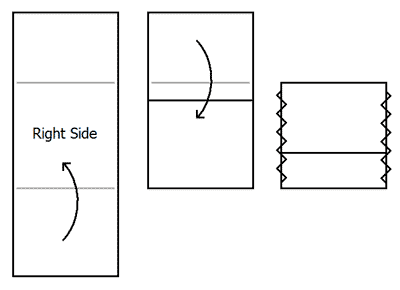 Turn the bag-bag right-side out.
Make a short loop of yarn (use finger-knitting for a more hard-wearing loop). Thread opposite ends through either side of one corner, and knot on the inside.
Variations:
The bag-bag pattern is worked in a slipped garter stitch which can look very different depending on how many and how often the colours changes are.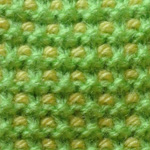 This pattern uses two colours of yarn. Change after the 2nd and 4th rows.
This pattern uses three colours of yarn. Change after the 2nd, 4th, 6th row, etc.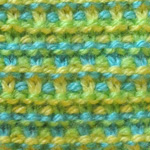 This pattern uses three colours of yarn. Change at the end of every row.
Notes:
Needle/Yarn Size
As with most ODDknit patterns the yarn and needle sizes in the "you will need" section are just a guide. Feel free to improvise with whatever needles and yarn you have lying around - that's half the fun!
© 2015 All desgins and images are copyright of ODDknit. If you enjoy the content of this website, please consider buying me a coffee at the link below.