Cord Bracelet (F2)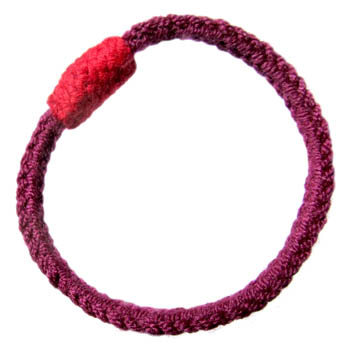 This is a really simple design that's easy to make. The pattern uses i-cord, but if you know how to make any other sort of cords (crochet, macramé, finger knitting... ) you can use them too.
A printable version of this pattern is available.
You will need:
yarn scraps
strong glue
2 x double ended knitting needles (3mm)
tapestry needle
scissors
Pattern:
(A list of abbreviations is available.)
Cord
Cast on 2 sts.
I-cord between 17 and 21cm
Cut yarn, thread through remaining sts.
Bead
Cast on 6 sts.
Work 8 rows Stocking Stitch.
Cast off.
Making Up:
Join the ends of the knitted cord by knotting and sewing them together. A dab of strong glue can help secure the ends. Allow the glue to dry and then trim the loose ends as short as possible. The join doesn't have to be neat, but it does have to be firm.
Wrap the knitted bead around the join so that the cast on/off edges meet. Sew the edges together around the cord. Fix the bead in place by passing the yarn through the cord at each end of the bead. Lose the ends of the yarn inside the bead.
Variations:
Go nuts! Try different colours in different combinations. Use different types of i-cord, use different types of cord altogether. Use furry wool or fluffy wool. Make an armful or just wear one. Be careful though, making Cord Bracelets can get addictive.
Notes:
Needle/Yarn Size
As with most ODDknit patterns the yarn and needle sizes in the "you will need" section are just a guide. Feel free to improvise with whatever needles and yarn you have lying around - that's half the fun!
© 2011 All desgins and images are copyright of ODDknit.